Year 11
November Mock Exams Timetable 2022 Student Version
Exams 2023 Letter and FAQs for Year 11 Families October-2022
Year 11 Exam Ready! Parents' Event - April 202
Summer Exams Timetable - 2022 EXAM READY! REVISION SESSIONS Timetable - Summer 2022 Easter 2022 - Revision Letter
Exams 2022 - Advanced Information Guide for Students and Families Year 11 Mock Exams - February 2022
Summer Exams Updates (Advanced Information)
Dear Year 11 Parents and Carers,
In my letter dated the 29th November 2021, titled 'Exam Contingency Plans', I noted adaptations to your child's examinations that may take place given the disruption to learning that they have faced over the course of their KS4 studies.
Next week, on the 7th February, we should receive information relating to your child's exams and this will include 'Advanced Information'. Essentially this information will be shared for subjects where students will receive advance information to support their revision and preparation for these exams; it is aimed at allowing fairer access for all students.
Some key updates and notes are detailed below for English and Maths but I will write to you again after February Half Term with specific information for the subjects that your child studies. Please do read the information below carefully, and the FAQs attached, and discuss it with your child.
Key Notes:
The intention is that exams WILL go ahead as planned.
Advance Information (AI) released no later than 7th February.
AI will be available from awarding organisation websites.
AI will look different depending on the subject.
AI will not be published for art and design qualifications or GCSE English Literature, History and Geography as adaptations have already been made to these subjects to support fairer access.
Below are the key dates for your child's English Language, English Literature and maths exams, as well as some key notes for each subject:
English Language:
No change to written examinations.
Advanced information on exams will be available by 7th February.
Changes to the spoken language endorsement – a sample of audio-visual recording of spoken language endorsements does not need to be sent so your child does not need to be recorded completing their presentation or speech.
English Literature:
Choice of subject content to reduce the required subject content.
Changes to the exam structure.
Total marks and time has been reduced.
No advanced information on exams.
Advanced information on exams will be available from 7th February
Maths:
A formulae sheet will be provided in the exam so memorising formulae is not required. Formulae sheets are available on the examination board websites but your child has already been given a copy. I have also attached this to this email for your reference.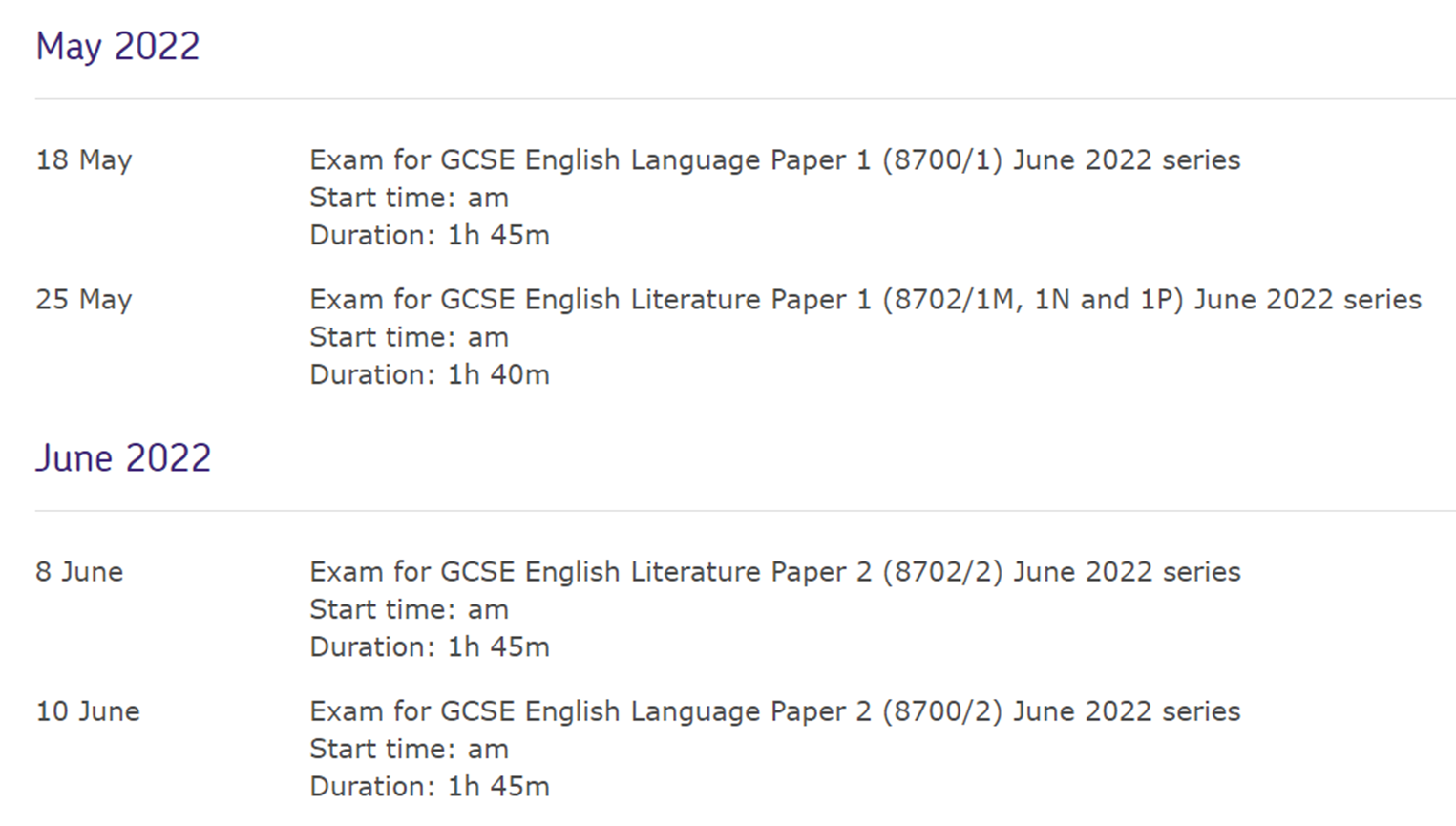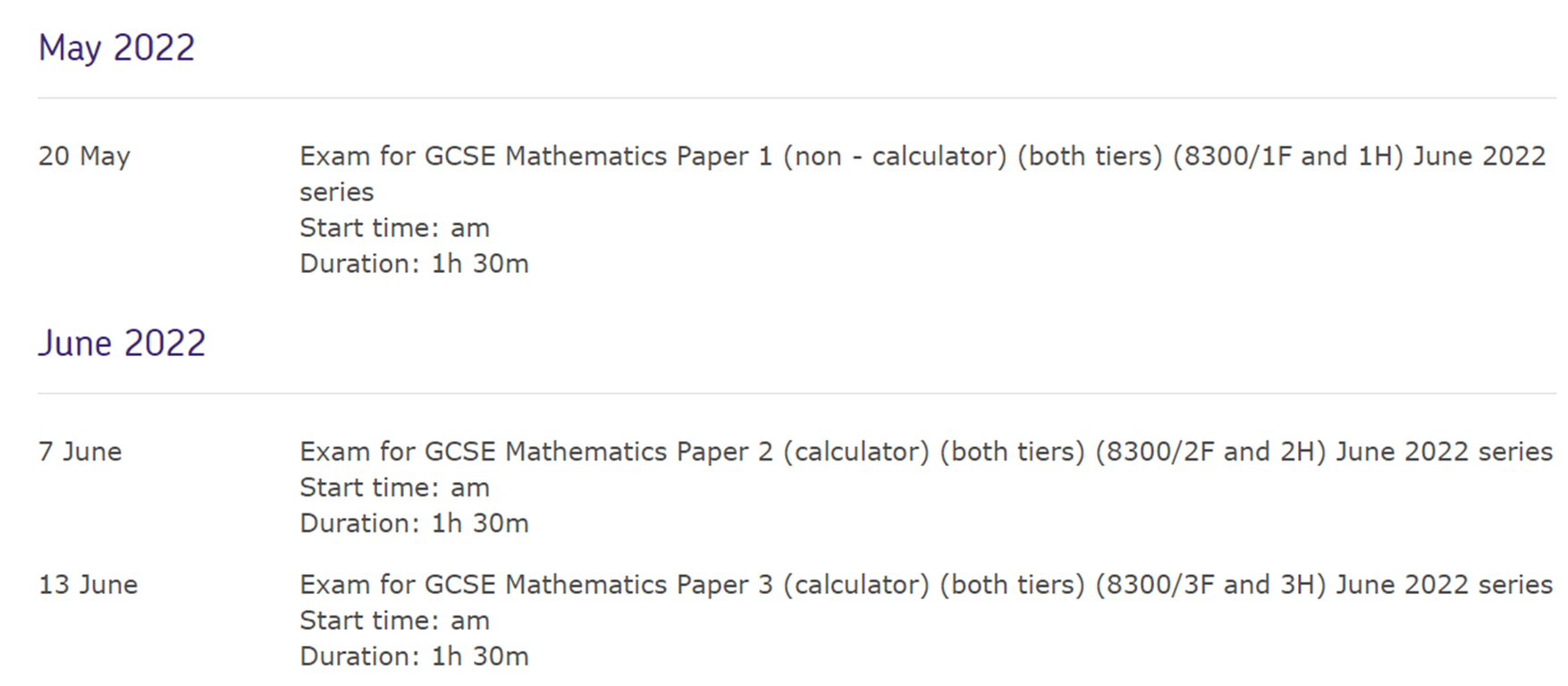 Please note that your child's second series of Mock Exams is scheduled to take place from the 28th February to the 11th March; I will send out the timetable to you next week.
We thank you for your continued support and if you have any questions, please do get in touch.
GSCE - Maths Foundation Tier Formula SheetGCSE - Maths Higher Tier Formula Sheet Students and Parents - Advanced Information - FAQs - Summer 2022
Updated 11 Remote Parents' Evening Letter - 12th January 2022
Exam Contingency Letter - November 2021
Post-16 Progression Event - Parent Letter (November 2021)
Year 11 Grade Booster Revision Sessions - October 2021
Year 11 Mock Exam Timetable - November 2021
Exams 2022 Update - October 2021
Communication to Parents/ Carers and Students on Appeals - June 2021Science and Physics Equations
GCSEPOD Revision - Supporting Your Child's Revision