Overview
If you would like to know any more about the curriculum at Beacon High, please email postbox@beaconhigh.org.
The Beacon High Curriculum Vision 2021 - 2022
Learning journey
Our Learning Journey provides an outline for all of our stakeholders, of the unique and diverse range of quality enrichment and learning activities that students can enjoy during their secondary school years at Beacon High. We developed this journey to make explicit the range of opportunities on offer for our students to grow, develop and learn. We want our young people to develop the skills and experiences to lead successful and fulfilling adult lives, as well as realise their dreams and ambitions. We believe, wholeheartedly, in the whole education and developing the whole child.
Below you will find a copy of our Learning Journey. This of course, is not an exhaustive outline of all the fantastic learning opportunities that go on in our school every day, rather an overview of the highlights that we think makes the experiences we provide genuinely distinctive and transformative and a fulfilment of our motto in practice: Believe. Belong. Become.
More information on these events can be found on the 'Newsletters' section of the website and these are updated frequently.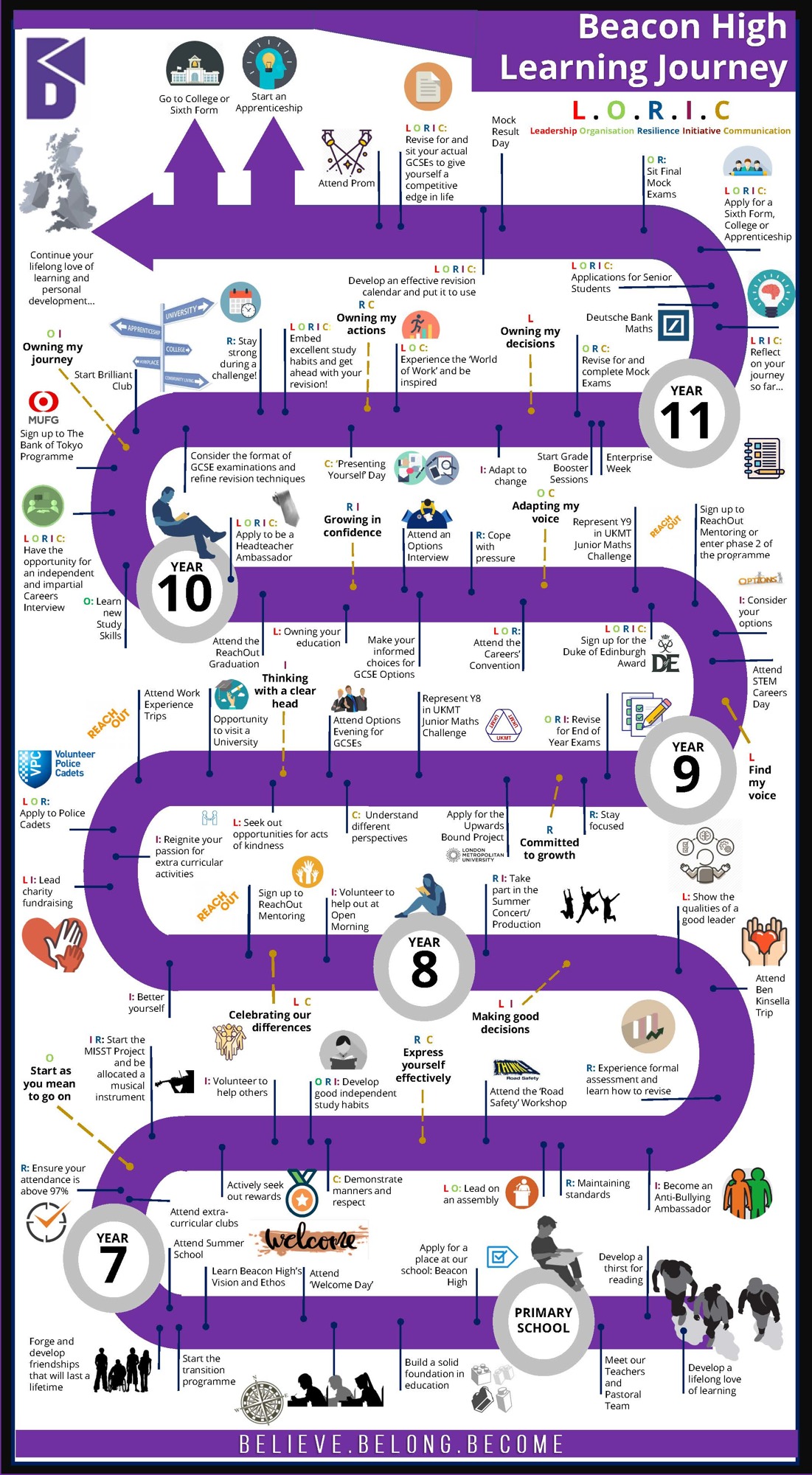 To make clear our curriculum offer from Year 7 to Year 11, our subject teams have developed subject specific Learning Journeys; these are currently being updated and reviewed, especially in light of the time we missed in 2019/20 and Term 3, as well as our response to any changes and adaptations we need to make moving forward. We hope that these journeys communicate clearly an outline of what your child should expect to learn throughout their time at Beacon High in every subject. Of course, these are not extensive but offer an overview; they are also subject to change.
Please click on the links below to access subject specific Learning Journeys:
Art and DesignDramaFood Preparation and Nutrition GeographyHistoryMathsModern Foreign LanguagesMusicPhysical EducationPersonal Social Health and Careers EducationReligious EducationSpecial Educational Needs and Disabilities
Computer ScienceEnglish Language and LiteratureScience
Land Based Studies
The Beacon High Way
At Beacon High we recognise the significant benefits that a working partnership between school and home can have on our students. We believe that there are three main stakeholders in ensuring your child/our student reaches their full potential and, ultimately, leads a happy and successful life.
We all have a vital role to play towards their success and it is a team effort. At times it will not be easy, however working together to provide a supportive and calm environment will aid their development. Building positive relationships is one key ingredient that we believe will help your child to achieve their potential.
With this in mind, we have created what we hope is a supportive resource when you are engaging in discussions with your child about their learning, progress and aspirations.
"If my mind can conceive it, if my heart can believe it...Then I can achieve it."

-Jesse Jackson