Alumni Success Stories
Many of our ex-students keep in touch with their teachers at Beacon High and we are always delighted to hear about their achievements. We hope that you will be interested in what the students below have to say about their school days and their future endeavours.
Kaan
Former student Kaan, who left in 2017, has just received the exciting news that he has been successful in gaining a place at Cambridge University to study Natural Sciences.
A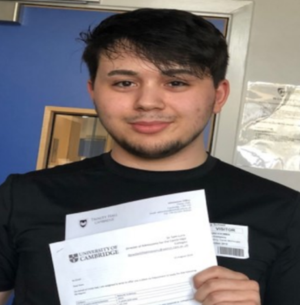 fter leaving us, Kaan studied A Levels at City and Islington Sixth Form, achieving an impressive three A*s in Maths, Physics and Further Maths.
Kaan reflected on his time at school as a time where he met many friends with whom he is still in touch. Though gaining respectable grades, Kaan recalls being disappointed with his GCSE results as he was aiming for top grades. Rather than view this as a setback, this spurred him on to get organised and study hard at college, not leaving it until the last few months in order to get himself the best grades at A Level.
Kaan's advice to our Year 10 and 11 students is to "Start now! Don't leave it too late. Never be scared to ask for help; use your teachers; work at home and use all the exam materials online".
He commented that when starting college it was great because he was studying the subjects he is clearly passionate about and the freedom and independence were aspects he enjoyed - adding a cautionary note, that this requires self-discipline. He advised our GCSE students to "Get organised. Have a plan and write it down. Use your planners and have folders for each subject - enjoy yourself but put your studies first"...."As corny/cheesy as it sounds, students should never give up. When you find something challenging, the easiest thing to do is to stop – we've all been there. But to be constructive, you should always at least try to get some help. This can be from a friend, parent, or teacher". He added "Time-management is key. Make sure you plan your weeks so that you know exactly when to work and when to play. When you plan your studying, know exactly what you're going to do i.e a certain topic which you may struggle with or spending X number of hours on course work. Take breaks and don't overwork yourself!"
Kaan is looking forward to Cambridge but acknowledges that "there will not be a lot of people like myself there" as Kaan represents a small percentage of students from state education to be accepted into Oxford or Cambridge. It is clear that it is important to Kaan to make students at Beacon High aware of the potential to go to Oxbridge Universities. He said he is excited about the prospect of gaining a world class education, small classes and 1:1 tutorials, working with top academics in the field of Physics. When I asked him what his plans for the future were post-graduate, Kaan told me that he is considering a Masters Degree and possibly a PhD… but that teaching did sound too bad either.
We hope he will come back soon to speak to students about his experiences.