Alumni Success Stories
Many of our ex-students keep in touch with their teachers at Beacon High and we are always delighted to hear about their achievements. We hope that you will be interested in what the students below have to say about their school days and their future endeavours.
Kaan
Former student Kaan, who left in 2017, has just received the exciting news that he has been successful in gaining a place at Cambridge University to study Natural Sciences.
A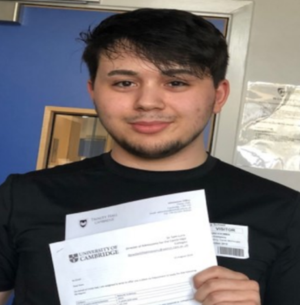 fter leaving us, Kaan studied A Levels at City and Islington Sixth Form, achieving an impressive three A*s in Maths, Physics and Further Maths.
Kaan reflected on his time at school as a time where he met many friends with whom he is still in touch. Though gaining respectable grades, Kaan recalls being disappointed with his GCSE results as he was aiming for top grades. Rather than view this as a setback, this spurred him on to get organised and study hard at college, not leaving it until the last few months in order to get himself the best grades at A Level.
Kaan's advice to our Year 10 and 11 students is to "Start now! Don't leave it too late. Never be scared to ask for help; use your teachers; work at home and use all the exam materials online".
He commented that when starting college it was great because he was studying the subjects he is clearly passionate about and the freedom and independence were aspects he enjoyed - adding a cautionary note, that this requires self-discipline. He advised our GCSE students to "Get organised. Have a plan and write it down. Use your planners and have folders for each subject - enjoy yourself but put your studies first"...."As corny/cheesy as it sounds, students should never give up. When you find something challenging, the easiest thing to do is to stop – we've all been there. But to be constructive, you should always at least try to get some help. This can be from a friend, parent, or teacher". He added "Time-management is key. Make sure you plan your weeks so that you know exactly when to work and when to play. When you plan your studying, know exactly what you're going to do i.e a certain topic which you may struggle with or spending X number of hours on course work. Take breaks and don't overwork yourself!"
Kaan is looking forward to Cambridge but acknowledges that "there will not be a lot of people like myself there" as Kaan represents a small percentage of students from state education to be accepted into Oxford or Cambridge. It is clear that it is important to Kaan to make students at Beacon High aware of the potential to go to Oxbridge Universities. He said he is excited about the prospect of gaining a world class education, small classes and 1:1 tutorials, working with top academics in the field of Physics. When I asked him what his plans for the future were post-graduate, Kaan told me that he is considering a Masters Degree and possibly a PhD… but that teaching did sound too bad either.
We hope he will come back soon to speak to students about his experiences.
Sade
After leaving Holloway School/Beacon High, Sade went on to study A-Levels at Woodhouse. At first she felt she had "so much work" but recognised that in the process she had developed a lot of independence in her approach to her studies.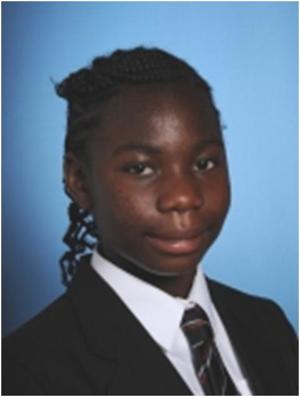 This year she has been accepted to University College, Oxford to study Law. Incidentally, this won't be Sade's first experience of UK elite universities, having visited her new institution's rival, Cambridge, in 2016 as part of the Brilliant Club Scholars' Programme. Back then, Sade greatly impressed her tutor Dr. Sophie Banks with her phenomenal essay on 'Reading and Identity in the 18th Century'; she achieved a 1st Class award and it was selected from around 25,000 entries for publication in The Scholar. Sade, like all freshers, is tentatively looking forward to the challenges of being away from home as, even in the current climate, there will be some face to face teaching next semester. She said the interview process was tough and that she had to be assured and confident during the interview and tasks. After her first year she intends to undertake modules in IT and in Commercial/Contract Law.
Tomique
When Tomique was at Holloway School she spent significant time training for and participating in international gymnastics competitions. Despite this, Tomique never got behind in her studies and showed the same discipline and commitment in staying on top of her school work, as she did in the gym!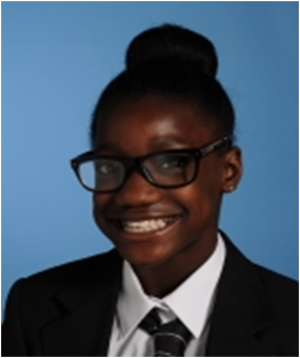 Right now, Tomique is supposed to be moving to Pennsylvania, USA, ready to begin teaching international gymnasts at a sports camp where Olympians are coached and trained. Sadly, this has been postponed due to Covid-19 but she hopes to travel as soon as possible. After leaving college, she had an offer of a place at the prestigious Berkeley University, near San Francisco, however, plagued by injuries, she turned the scholarship down as she didn't feel she could commit fully. Since then, Tomique has been coaching gymnastics. This has allowed her lots of opportunities to travel and work internationally as there are few people with her level of specialism. Discussing her plans for the future Tomique said that she really enjoyed Art at GCSE and A-Level. She is thinking about a career in "special effects, creating all things gruesome". She is also thinking of getting into stunt work for TV and film. She commented that she would be putting herself at risk of injury again, "but I can't see myself sitting in an office. I did something that was pretty niche for a long time and now I feel like I can explore some of my other talents. I don't want to confine myself to one thing because my whole life was so regimented and disciplined, always staying in peak physical condition."