UCL Holocaust Beacon School 2019-20
Posted on: 12th Jun 2019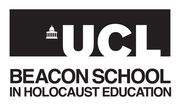 We are delighted to announce Beacon High have successfully applied to be part of the UCL Holocaust Beacon School 2019-2020 programme. This is an exciting and important opportunity. The work begins in earnest in September, with the project launching in July.
The Holocaust Education promotes and teaches students to challenge misconceptions in society and allows students to develop their own values regarding human rights, prejudice and justice.
The programme is in complete harmony with our school ethos; Believe, Belong, Become- Where dreams inspire futures.
I believe that it is vital as an RE/ PSHE leader in such a multi-cultural environment to instil a sense of belonging and identity and to develop community cohesion amongst our students and future leaders of society.
More details to follow - we are very proud of this!